UNDPI Media Monitoring이 진행 중입니다. 60주년 인권기념선언과 폴란드 기후변화 국제회의 등 2가지 테마가 국내 언론(이번에는 영문일간지에 한해)에 얼마나, 어떻게 보도되었는지 모니터링 하는 작업입니다.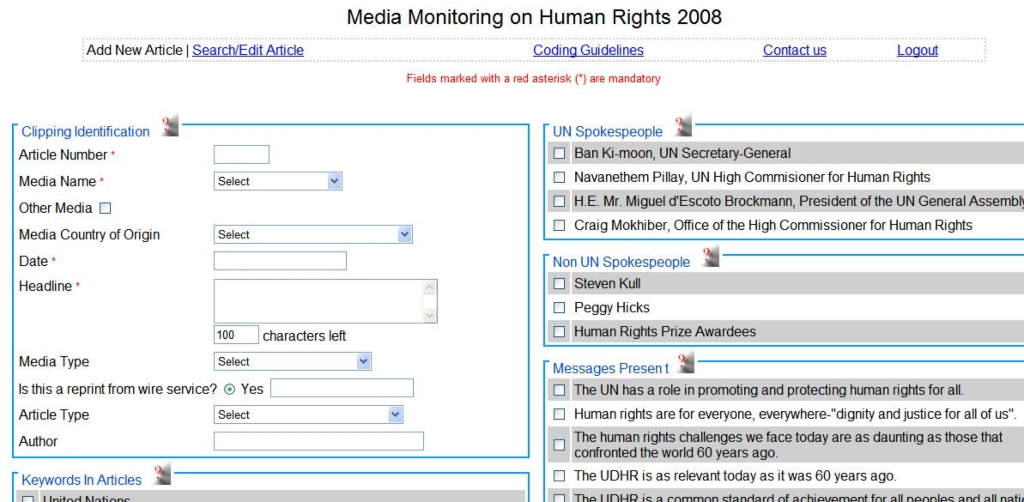 Dear colleagues,
This is to provide you with instructions for the two media monitoring exercises that we will carry out
from 1 to 14 December,
as announced in previous emails. This exercise is designed to monitor media coverage around the world on
human rights
and
climate change
.
This time we will monitor media coverage for two weeks,
on two topics simultaneously
(the information will be entered in two separate online forms):
1)
Human Rights
events to be held around the UN observance day, locally, nationally, regionally and/or at Headquarters (10 December). Go to:
http://unic.un.org/ecru/mma/2008/HumanRights
(Select your UNIC and enter password:
ICSDPIECRU
);
2) The United Nations
Climate Change Conference
to be held in Poznan, Poland (1-12 December). Go to:
http://unic.un.org/ecru/mma/2008/ClimateChange/
(Select your UNIC and enter password:
ICSDPIECRU
).
We ask you to kindly monitor the key media in your countries from
Monday, 1 December until Sunday, 14 December
. Staff at Headquarters will monitor international, US and UK media as part of the same project. All information must be entered into the online forms no later than
Thursday, 18 December 2008
, in order to be analyzed in time for this year's reporting requirements.
Please read the attached coding guidelines very carefully before you begin entering information on the collected articles. It is very important that we all code the media clippings in the same way to make the results comparable.
The attached coding guidelines
give detailed information about:
a) Search terms to use to find appropriate media clippings
b) Instructions on how to fill in the fields in the online form
Following the success of the last media monitoring exercise in September, to which 35 UNICs contributed valuable information, we count again on UNICs to provide us with insights on the coverage at the national level of these upcoming campaigns.
Your contribution is central to the success of this project
! The results will be used to showcase the work of the Department in the Senior Managers' Compact, the Annual Programme Impact Review and the Programme Performance Review, to name a few, and will also enable us to learn how to make our work more effective in the future. Once the exercise is completed and the information collected has been analyzed, we look forward to sharing the results with you.
We hope these instructions are clear. If you have any questions, concerns or problems, please contact Jocelyn Jackson in DPI's Evaluation and Communications Research Unit.
With many thanks and best regards,
Margaret
Margaret Novicki
Chief, Communications Campaigns Service
Strategic Communications Division
UN Department of Public Information